Dance Studio Locations
Franklin Park, NJ
Hillsborough, NJ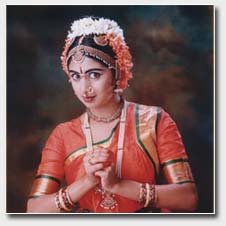 An exponent of Pandanallur style of Bharathanatyam, Vidushi Rashmi Sudheendra is a disciple of Guru Dr. Vasundara Doraswamy under whom she trained for 12 years.
Rashmi Sudheendra was born in a Mysore family devoted to fine arts, particularly music. She is the daughter of Smt. Susheela Nagaraj and Sri S Nagaraj who initiated her into the world of dancing at the tender age of three.
more
»

© Rashmi Sudheendra 2016 : : All Rights Reserved : : Site designed by
The Communicatory